Focus FS Mine Rescue Software Spotlighted at International Conference
September 19, 2019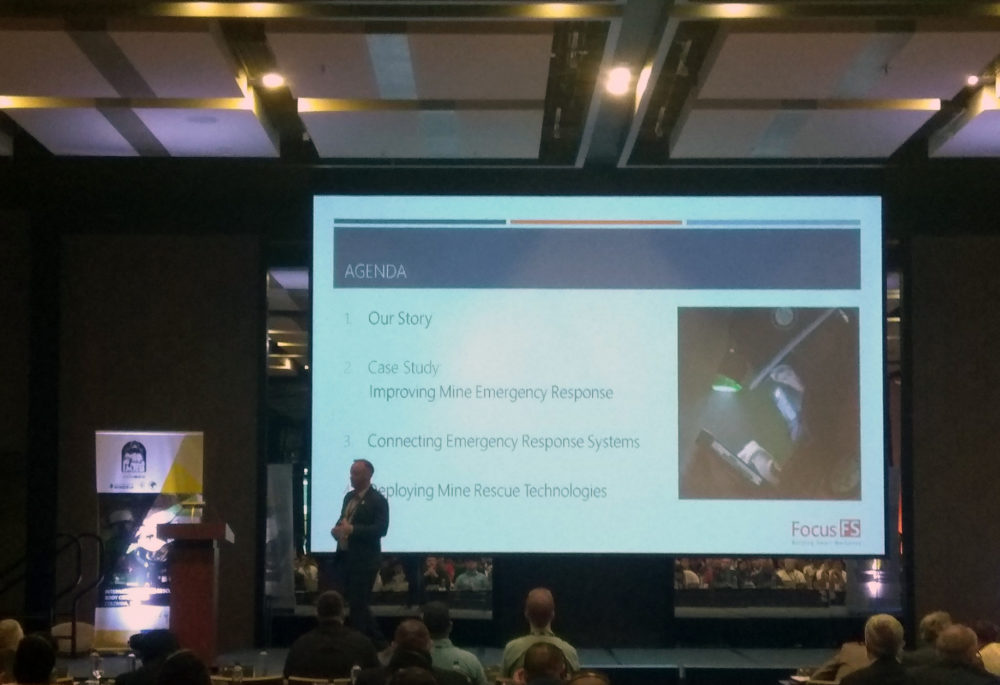 Focus FS President and CEO Jeffrey Brown highlighted the effectiveness of digital mine rescue software at the Ninth International Mines Rescue Body Conference in Bogotá, Colombia.
His presentation, Emerging Technologies Improve Mine Emergency Response, gave an overview of Focus FS industry-leading emergency response system – which was designed in conjunction with industry experts especially for the mining industry.
Brown said Focus FS software enhances situational awareness for all responders by capturing and reporting on the safety, status, and location of people and materials in real-time. This in turn replaces outdated technology such as radio-only communications, pen-and-paper mapping and notetaking, and upgrades processes including team handovers, post-incident debriefings, and legal record keeping.
He provided attendees with a case study demonstrating Focus FS software in action at a mine rescue competition. During the competition incident briefing, a digital map was used to inform the safety team of incident details – including location and environment status.
A team captain was impressed, with Brown quoting him as saying: "The digital map alone is a big improvement over paper maps. I can quickly scan through maps including maps of ground above and below where we are."
Brown noted the briefing officer then requested a better description of the scene where the injured worker was located, and the team captain sent digital photos using the interactive software. Timers ensured the captain captured team oxygen levels – and notes, photos, and equipment data collected on the tablet was later used for post-incident reporting and feedback.
Brown said when deploying emergency response technologies, it's important to establish communication and training plans early, and to seek feedback early and often.
"Innovation is driven by those who seek continuous improvement," said Brown, noting technology will reduce risk and improve outcomes.
**
Focus FS helps mining and heavy industrial clients around the world – and we can do the same for you. Tell us about your pains and processes, and we'll walk you through a solution that delivers safer, smarter operations – including incidents and events management, e-mustering, and mine rescue.
Get started today and contact us for a personalized demo.
—
Subscribe to our newsletter