Mine Rescue Software: All Your Maps and Data in One Place
July 8, 2022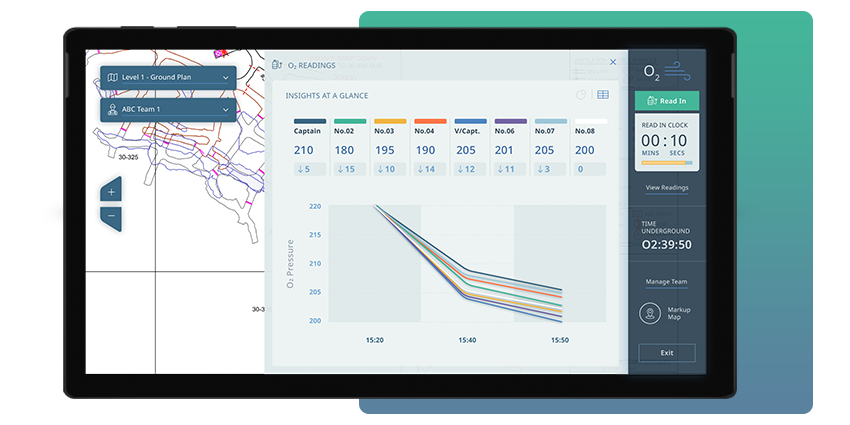 For mine operators around the globe, nothing is more important than worker health and safety. So why has the mining industry been slower to adopt digital safety applications than other industries like energy and construction? In this blog series, we'll explore some of the mining industry's challenges and feature solutions delivering on the next generation of digital safety. Click here to read the introductory post.
A few minutes have passed since an incident occurred at your mine – and all minds are on the two workers seriously injured underground. The situation is tense and while it's been a long time since something like this has happened, your onsite staff are well-trained and respond quickly once the alarm is triggered.
Everyone is following the steps laid out in the mine emergency response plan (MERP), which includes setting up an incident command centre and a fresh air base. Authorized personnel have converged and are providing top-notch leadership, while support crews and mutual aid have been deployed.
The mine rescue team is gearing up with the most current PPE and specialized equipment. At the same time, the mine rescue captain is making his way to meet with the briefing officer and receive the team's assignment. Surprisingly, the briefing officer isn't ready.
Mine maps are locked in the engineering room and nobody around has a key. It seems like forever, but then someone finally shows up and unlocks the door. The paper documents are pulled out and carried to the briefing area, and the briefing officer and mine rescue captain are talking non-stop as they unfold the maps across the meeting room table.
Some of the maps, especially those used underground during previous missions, have patches of tape covering worn edges and ripped creases. Scuffs and stains make a few details hard to decipher. In addition, humid storage conditions have caused some of the documents to ripple.
The briefing officer and mine rescue captain stop and look at each other momentarily, knowing these maps are less than ideal. One of the latest site projects isn't even outlined on these maps – so even if they were pristine, they aren't entirely up to date.
Even so, with valuable seconds ticking away, the briefing officer relays all available information and answers the captain's questions as best she can. The captain picks up his paper maps, trying to ensure no further damage as he heads off to speak with the rescue team.
The captain hands the paper maps over to the team's map man. The map man adds the maps to his clipboard, along with an assortment of sticky notes and coloured pencils to track the team's progress throughout the mission.
Once the team is underground, how can the map man work out every detail on the worn and taped-up paper maps when there's low light and rapidly changing conditions? Can he relay vital data back to the fresh air base when he can't quite pinpoint the team's exact location?
Can a communications blip cause a delay in relaying important information from the fresh air base to the rescue team? What about the reliability of notes written down during the mission? And will the captain be able to remember every mission detail when writing his final report?
Digital is Better
Put an immediate stop to your mine map problems with the Focus FS Emergency Response Solution, which includes a cutting-edge interactive digital mapping system designed specifically for the mining industry.
Your team can share vital map-related data in real-time using tablets, mobile devices, or computers connected to the Internet. Keep your most current maps on hand by easily uploading them to the system, where they're securely stored and accessible only to individuals and groups authorized in your MERP.
And as your mine expands and grows, it's simple to add to or edit your online map library, ensuring the right people have access to current and reliable resources at a moment's notice.
When an emergency requiring a mine rescue team occurs, the attending briefing officer and mine rescue captain can quickly review the interactive digital maps on their mobile devices. The map man can share information in real-time by plotting key points directly on these digital maps. Our system is equipped with MSHA-approved symbols, so there's no confusion about what's happening.
The easy-to-use zoom feature allows users to zero in on a particular area or zone, providing highly-detailed map data at the briefing and during the mission. If a rescue route becomes blocked or needs to change during the mission, the affected area can be clearly marked on the map and instantly shared between the fresh air base and the rescue team.
Photos and notes can be quickly added to a specific area of a map during a mission, saving the team captain or map man time by not having to pause and describe what's going on via radio or telephone. Photos and notes also provide fresh air base and mission control with a comprehensive overview of what's happening, allowing them to make well-informed decisions.
Efficiently manage or add equipment and teams during a mission, providing a seamless transition if one team needs to return to the surface and another team is deployed. The system also provides the map man and fresh air base personnel with the ability to add live updates as the mission unfolds. This allows for easy and reliable sharing of time-sensitive information and data.
Built into the system's main screen is a clock showing time under 02, as well as a timer indicating the minutes and seconds until the next 02 read-in is due. With the click of a button, new 02 read-ins can be entered into the system, and an automated log provides an overview of all 02 readings recorded during the mission.
If an Internet connection is lost at any point during a mission, data can still be applied to the digital maps and then sync when a connection is re-established. Once a mission is complete, data including marked-up maps, notes, and oxygen readings are securely stored in the system for detailed post-incident investigations and reports, corrective action management, and legal record keeping. Mission data can also be downloaded for compliance reporting and audit management.
Keep your mine maps up-to-date and ready for use in unexpected and fast-moving situations with the Focus FS Emergency Response Solution.
The next blog post will look at equipment and team management. Stay tuned!
—
Learn More
The Focus FS Emergency Response Solution was purpose-built for safer mine rescue operations.
Preview the Emergency Response Solution for Mine Rescue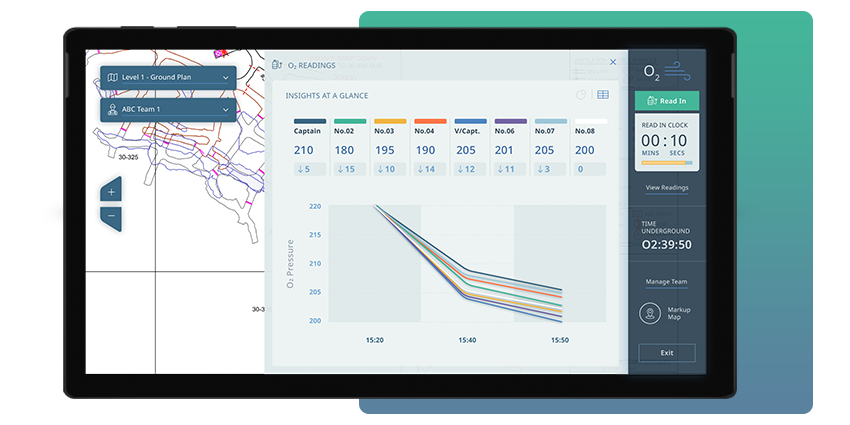 —
Subscribe to our newsletter