Preparing for Severe Weather & Other Disasters
April 14, 2022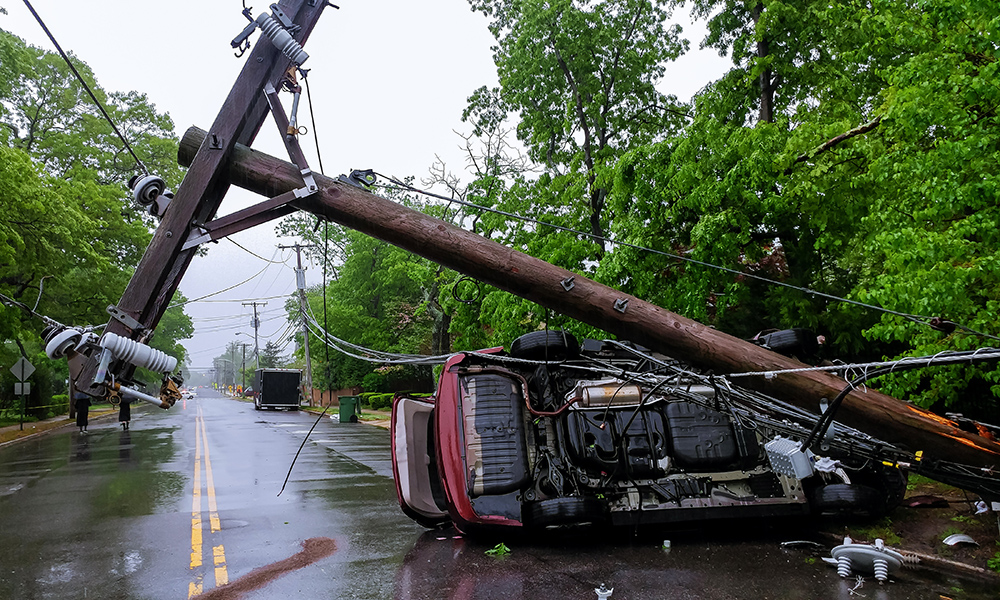 The United States experienced 20 separate catastrophic climate and weather disasters in 2021 – making it one of the deadliest and financially-devastating years on record.
In their recent U.S. Billion-Dollar Weather and Climate Disasters report, NOAA National Centers for Environmental Information officials put the 2021 death toll at 688 people and damages at around $145 billion.
This marks the seventh consecutive year for 10 or more billion-dollar climate and weather disasters battering the country. Also noteworthy was the assortment of disasters throughout the year:
Eight severe weather events (across many areas of the country),
Four tropical cyclones (Elsa, Fred, Ida, and Nicholas),
Three tornado outbreaks (Southeast, Central, and Southern regions),
Two flooding events (California and Louisiana),
One wildfire event (combined wildfires across the Western region),
One drought/heat wave event (Western region),
One winter storm/cold wave event (Texas and Southern region).
Of these climate and weather disasters, the most destructive and costly included:
Hurricane Ida – $75 billion (96 deaths). Category 4 hurricane made landfall in Louisiana with maximum sustained winds of 240 km/h (150 mph), causing heavy damage to the state's energy infrastructure. Also impacted wide region from Pennsylvania to New York. Many construction sites damaged or destroyed; numerous chemical plants lost power or were forced to close; most oil production along Gulf Coast was shut in.
Winter storm/cold wave – $24.0 billion (226 deaths). Considered the costliest U.S. winter storm event on record, which impacted many Northwest, Central, and Eastern regions. Widespread power outages in Texas and several other states. Deep freeze caused petrochemical plant shutdowns, unit upsets, and flaring in Texas and Louisiana. State and private commercial construction projects halted in many places.
Western wildfires – $10.6 billion (eight deaths). The 2021 wildfire season was negatively impacted by severe drought conditions and periods of extreme heat; was focused across California, Colorado, Oregon, Washington, Idaho, Montana and Arizona. The region's infrastructure was strained and damaged, and there were widespread farm and crop losses.
Western drought/heat wave – $8.9 billion (229 deaths). Drought conditions expanded and intensified across many western states. Historic heat wave developed across Pacific Northwest. Dried-out vegetation impacted agriculture industry across the West; low water levels shut down a hydroelectric power plant in California.
Southeast and Central tornado outbreak – $3.9 billion (93 deaths). Historic December tornado outbreak across several states caused extensive damage across several states. Peak intensity of 190 mph recorded in Kentucky. Deadliest recorded U.S. December tornado outbreak. Widespread infrastructure damage and boil-water advisories were issued.
"It is concerning that 2021 was another year in a series of years where we had a high frequency, a high cost, and large diversity of extreme events that affect people's lives and livelihoods – concerning because it hints that the extremely high activity of recent years is becoming the new normal," wrote Adam Smith, the report's lead scientist, in a blog post discussing the report.
So why are the number of these billion-dollar climate and weather disasters increasing in the United States? The report cites a combination of factors: increased exposure (assets at risk of possible loss); vulnerability (the amount of damage caused by a disaster's intensity at a location); and climate change causing increased frequency of some types of weather extremes.
In reviewing past and future risks, the report found Central, South, and Southeast regions of the country have historically experienced a higher frequency of billion-dollar climate and weather disaster events. The same regions are projected to have the most negative future impacts across numerous socioeconomic metrics, including high-risk labour and energy expenditures.
Proactive Approach
The number and costs of climate and weather disasters, including severe weather events, can vary from year to year. Therefore, it's critical for industrial organizations throughout the United States (and elsewhere) to take a proactive approach to how they prepare for and respond to such emergency situations.
One way to remain prepared is to have emergency response plans and procedures at every worksite, and then conduct regular reviews and updates.
While regulations in different areas might specify details about having emergency response plans and procedures, here are some general suggestions on when they should be reviewed:
On an annual basis or another recurring timeframe,
When an issue or weakness affecting plans/procedures comes to light,
Following a disaster or emergency, to find out what worked and what didn't go as intended,
When there are changes to existing infrastructure, materials, processes, or key personnel.
The following are some questions and recommendations to keep in mind when reviewing and/or updating emergency plans and procedures:
Coordination & Leadership – Has an individual (or team) been selected to coordinate and lead an emergency response? They should be responsible for such things as assessing a situation and activating emergency plans and procedures; supervising emergency efforts, including the evacuation of personnel; and, directing a shutdown of operations when required. It's important all personnel know who the individual or team are – and understand they have the authority to make decisions and issue directives.
Up-to-Date Training – Have personnel been educated about different types of climate and weather emergencies that could occur, and have they been trained to take the correct course of action? Emergency response plans should also be reviewed with all personnel, so they can understand the various functions and components. It's advisable to hold regular practice drills to keep all personnel knowledgeable and prepared.
Alerts and Updates – When sudden or rapidly-changing weather conditions occur, does your current system allow coordinators or other officials to send instant alerts to affected groups or individuals? What about sending all-clear or false alarm notifications? One of the best ways to simultaneously reach onsite workers, emergency response teams, mutual aid crews, command centre personnel, management, etc., is to send alerts directly via mobile apps, emails, or texts.
Equipment & Personnel Readiness – When an alarm or alert is issued, how quickly can personnel and equipment be ready for deployment? For example, do those people exposed to the elements have quick access to waterproof workwear or specialized PPE if there's unexpected heavy rain or flooding? Has liquid-handling equipment been inspected recently and fit for service? Digital checklists and audits can be easily completed, archived and retrieved to ensure everyone and everything is ready to go at a moment's notice.
Effective Communications – Do emergency coordinators or incident command personnel have the most current and accurate weather-related information to make informed decisions for each worksite? Are emergency response teams able to quickly communicate such issues as flash flooding or equipment failures? An excellent way for everyone to stay informed is using interactive digital maps with real-time markups, as well as instant note-sharing and automated equipment updates.
Live Data Collection – Are emergency response teams or other key personnel remembering to include up-to-date weather conditions on their paper reports? Are response teams or mutual aid crews relying on outdated radios, landlines, or spotty Wi-Fi connections to relay vital information? Unpredictable and volatile weather data needs to be accurately recorded and communicated, ideally via an intuitive digital system that can be easily used by everyone, even when a Wi-Fi or internet connection is lost.
Reviews & Reports – When conducting post-incident investigations and reviews, how easy is it to document detailed weather conditions experienced by personnel and emergency response teams? Even if a system automatically collects weather-related data, can individuals and groups add follow-up thoughts and feedback? Highly-detailed post-incident reporting and analytics can also help provide lessons learned and other insights for adapting operations to new or changing weather patterns.
By regularly reviewing and updating emergency response plans and procedures, industrial organizations across the United States and elsewhere can help protect personnel, worksite operations, assets and equipment, and the environment against weather and climate disasters, including severe weather events.
—
Sources:
Bureau of Safety and Environmental Enforcement. (August 29, 2021). BSEE Monitors Gulf of Mexico Oil and Gas Activities in Response to Hurricane Ida.
Chemical & Engineering News. (September 2, 2021). Hurricane Ida slams the US Gulf Coast.
Construction Dive. (February 17, 2021). Texas contractors deal with 'unprecedented' winter weather, power outages.
NOAA National Centers for Environmental Information. (2022). U.S. Billion-Dollar Weather and Climate Disasters.
NOAA Climate.gov – Beyond the Data. (January 24, 2022. Updated March 17, 2022). 2021 U.S. billion-dollar weather and climate disasters in historical context.
Reuters. (September 6, 2021). Over 80% of oil output in Gulf of Mexico still offline a week after Ida.
S&P Global Commodity Insights. (February 15, 2021). Factbox: Deep freeze prompts upsets, shutdowns at US Gulf Coast petrochemical plants.
United States Department of Labor – Occupational Safety and Health Administration. (n/a. Retrieved March 21, 2022). Emergency Preparedness and Response: Getting Started.
—
Learn More
The Focus FS Severe Weather Solution helps mines and other industrial sites prepare for and respond to severe weather events.
Preview the Severe Weather Solution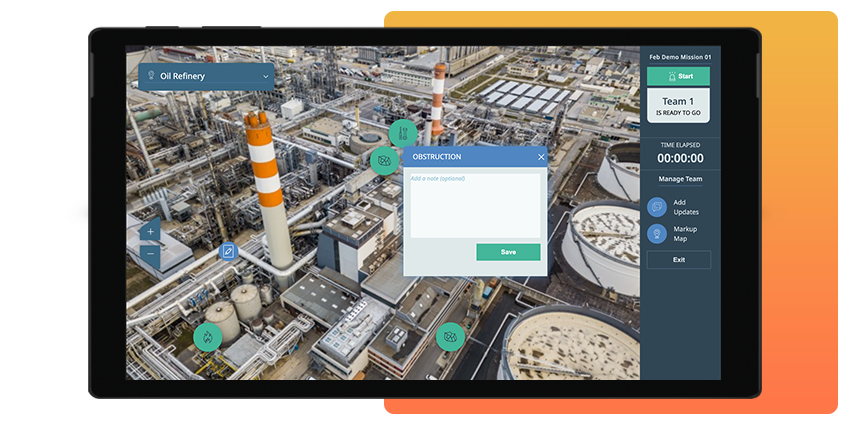 —
Subscribe to our newsletter
Emergency ReadinessEmergency ResponseExtreme WeatherSafetySevere Weather