The Wonder of Wireless – Dräger Review
October 13, 2020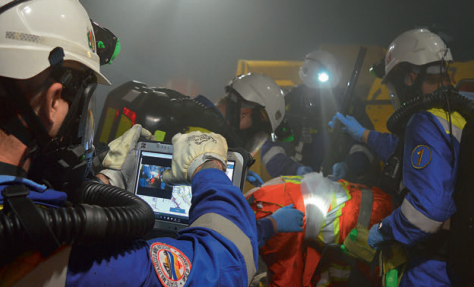 We're thrilled to have been recently featured in Dräger Review, the Dräger Group customer magazine.
The piece examines how digitization is changing the mining industry and includes an interview with Focus FS President and Co-Founder Jeff Brown.
"One of our first applications focused on digital positioning so that all employees can be found quickly in an emergency situation," reports Focus FS cofounder and CEO Jeff Brown. "The feedback from customers was resoundingly positive: Firstly, more detailed information in real time means that better decisions can be made and, secondly, all relevant data can be gathered so that things can be done even better next time."
Since the successful test at the International Mines Rescue Competition in 2016, Focus FS has installed its system in various facilities in Canada and the USA, according to Brown, is now also holding talks with Australian mines.
It also features insight from our partners at Ontario Mine Rescue, detailing their experience with the Focus FS Mine Rescue solution at the Mines Rescue Competition.
"That was a milestone," recalls Ted Hanley, vice president of Ontario Mine Rescue (OMR), whose organization hosted the event and commissioned and codeveloped the prototype. "With this simulation we were able to demonstrate that a digital system works better than the current combination of paper, pen, and walkie-talkie, because the device shares data more quickly and reliably with the relevant people. Incident commanders on the surface who are better informed can make better decisions." The experiment has since become a package of software and hardware that several mine operators in North America use to make the mine rescue teams fit for the 21st century.
Read the full article here: The Wonder of Wireless – Dräger Review 122 (PDF)
Are you on the list?
Be the first to get the latest product updates, safety tips and more with the Focus FS newsletter.
By subscribing you agree that Focus FS can contact you to promote their products and services.
You can unsubscribe at any time.