Why Digital Maps Outperform Paper Maps in Emergencies
July 27, 2023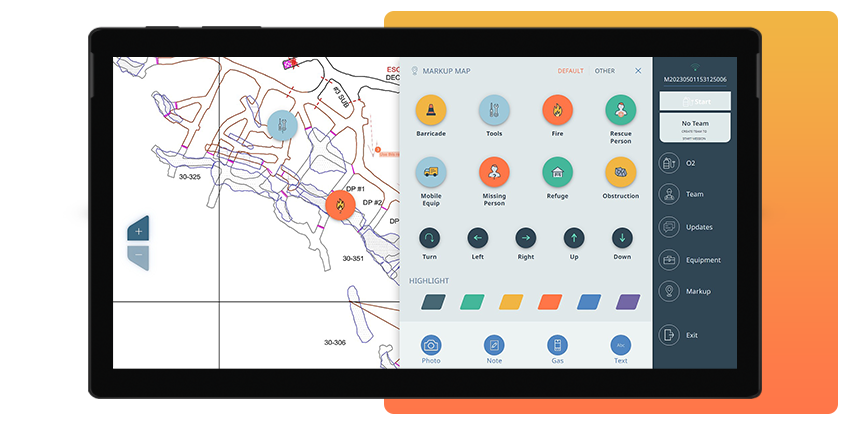 When an emergency happens, accurate and up-to-date maps are vital for organizing and managing an effective response. Map data collected during a response is also valuable for detailed post-emergency reviews and reporting.
So why are you still relying on outmoded paper maps? As part of an advanced safety software system, digital maps are superior for planning and conducting emergency responses. They're also better at providing accurate data for comprehensive evaluations and reports.
Let's take a closer look.
Accessibility
Paper maps generally require a designated onsite physical storage area, whether it's a secure cabinet, chest, closet, office, etc. Those with a key or authorization must go retrieve them when needed.
Digital maps are usually cloud-based and ready for use at any time. Authorized personnel can access them from almost anywhere with a computer or device connected to the Internet or local network.
Adaptability
As a worksite grows or changes, paper maps swiftly become outdated or unreliable. New maps need to be drafted, approved, printed, and dispatched to their correct onsite location.
Existing digital maps can be easily updated or edited to reflect a worksite's growth and development. New digital maps can be quickly and reliably uploaded into the system whenever needed.
In the Field
Paper maps can be cumbersome to carry around by a response team, and there needs to be adequate illumination to read maps in low light or dark conditions. Map-related paper notes also need to be organized and saved.
As they're accessed on a computer or device, a whole library of maps can be securely accessed during a mission. The device provides illumination, and the map software provides the ability to add digital notes or photos directly on the map.
Communications
Once a response team is deployed, it might be difficult to promptly communicate new or changing mapping information. This can cause delays or problems in completing an effective response.
The best digital maps are interactive and allow for fast updates between mission control and a response team, with updated details allowing for improved response times and team safety.
Wear & Tear
Over time and with usage, especially in emergency situations, paper maps can become dirty, worn, and damaged. In addition, previous markups can make maps difficult to read the next time they're needed.
Digital maps aren't susceptible to wear and tear, so they're easy to use and navigate right from day one. Map markups are saved separately in the system, so the original maps remain spotless.
Making Sense
It's possible that not everyone understands map markups, potentially making it difficult to read or interpret. This is especially true if new crews or mutual aid arrive on the scene.
Digital maps are easy to navigate, with the ability to zoom in on specific areas or add recognizable markups to ensure the right information is clearly conveyed to everyone participating in a response.
Documentation
Once an emergency is over, team members need to decipher handwritten map markups and notes (and potentially rely on memory) when filling out forms and other documentation.
Data entered on a digital map is automatically time-stamped and securely stored for future review, allowing for in-depth and accurate evaluations and internal/external reporting.
Before, during, and after an emergency, digital maps are superior to their paper counterparts. As part of an advanced safety software system, they help make navigating through complex worksites in tense situations less difficult and stressful to benefit emergency response outcomes.
Want to learn more? Contact us today using the form below.
—
Let's get started
Contact us to discuss your current strategies and find out how our solutions are improving health and safety at companies like yours.


Digital MapsEmergency ReadinessEmergency ResponseWorksite Safety