Why Your Software Needs a Powerful Dashboard
June 28, 2023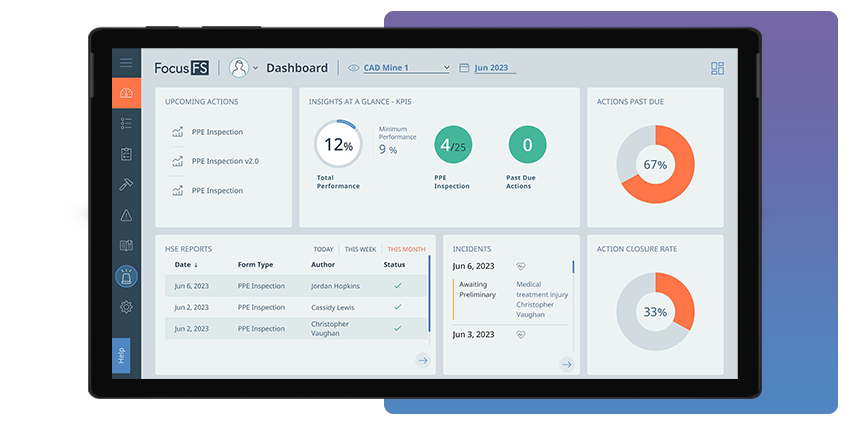 When selecting a safety software solution, making sure it has an intuitive and powerful dashboard probably isn't on your must-have list of features. But it should be.
The right dashboard provides clear and easy-to-understand overviews of large quantities of data – enabling you to efficiently track, analyze and report on key performance indicators (KPIs) and other important metrics.
These real-time insights allow for better decision-making, which in turn help you and your team improve worksite safety and productivity, increase revenue, and reduce costs – right now and as your operation grows.
Here are some key dashboard features you should be looking for when selecting the best safety software solution for your operation.
As your software collects data over time, manually sifting through and analyzing the data becomes increasingly difficult. The best software provides automated data collection and analytics, helping you understand what's happening with a single dashboard glance.
It's frustrating not knowing what's happening at a particular site or area, especially when goals aren't being met. You should be able to track KPIs and other metrics in real-time on the dashboard to quickly discover issues and make adjustments that improve safety and productivity.
Waiting for paper forms to be completed and then submitted is a waste of time. Enhance productivity with digital forms that are filled out and sent directly from the field. Relevant data is automatically parsed and displayed on the dashboard for timely reviews and action management.
Having the right data at your fingertips is good, but you also need to be able to share information with others. Your software's dashboard should allow you efficiently generate detailed reports, then distribute them directly to applicable internal and external stakeholders.
People comprehend information in different ways. Your software should allow you customize the dashboard to show metrics relevant to each user, in addition to chart and table options to help users visualize and understand complex data.
Your software should be able to scale and keep up with your worksite's changing needs. An effective software solution has a dashboard allowing for an unlimited number of users, as well as varying degrees of end-user accessibility and data control.
Data security and privacy are of the utmost importance. All data should be securely collected and stored in a central, cloud-based location, which authorized users can only access with specific dashboard permissions.
In addition to the above list of features, it's also smart to select a software solution with a dashboard that's accessible from almost anywhere with a desktop computer or mobile device connected to the Internet or company network. This helps ensure that everyone is kept up-to-date and knowledgeable on current worksite conditions and requirements.
To learn more about the importance of having safety software with a powerful dashboard, contact us today using the form below.
—
Let's get started
Contact us to discuss your current strategies and find out how our solutions are improving health and safety at companies like yours.


Purchasing SoftwareTechnologyWorksite SafetyWorksite Software