Attract & Retain Mining Talent With Tech
February 9, 2023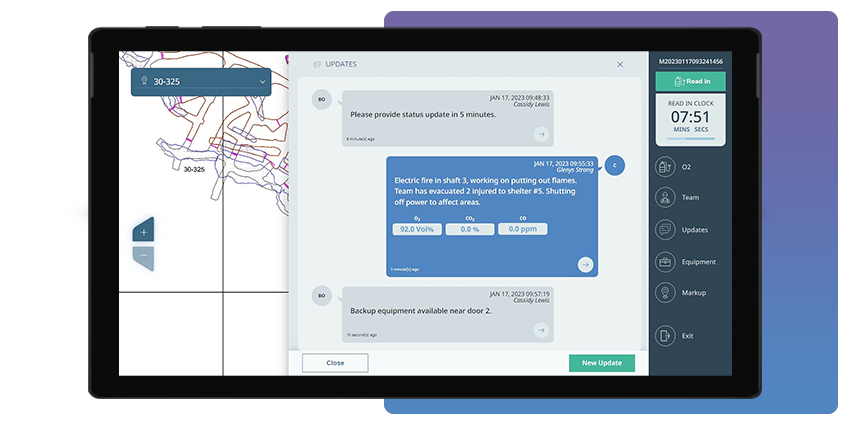 The global mining and metals sector is facing a serious workforce disruption.
According to a recent EY (Ernst & Young Global Limited) report, Top 10 business risks and opportunities for mining and metals in 2023, two forces are at play:
A global skills shortage brought on by an unprecedented demand for workers, and
A struggle to find replacement workers caused by mass retirements and resignations.
The EY report noted that in Australia, the mining and metals sector currently has more vacancies than at any other time in its recorded history. Statistics show job vacancies are also up significantly in the United States and Canada.
"The challenge is how to replace these workers when competition for talent, especially those with critical skills, is escalating," said the report's authors.
They found the next generation of talent doesn't associate the mining and metals sector with attractive jobs or align with their values. This perception, combined with outdated employee value propositions, can limit the ability to attract and retain workers.
"The sector's slow adoption of technology, particularly in frontline operations, is also a deterrent for new, younger potential employees who expect their work environment to reflect their digitally enabled everyday life," stated the authors.
"One mining executive said: 'We need to be innovative around our use of technology to attract the next generation of workers.'"
While re-skilling existing workers and upskilling newcomers can help battle labour shortages, the sector is generally reluctant to change and match today's flexible and dynamic workforce. As well, looking for mine-specific experience over skill-specific experience can lead to candidates being overlooked and possibly deter women and minority groups.
The authors noted onboarding is an important aspect of a mine employee's lifecycle, especially for those with limited experience. It helps ensure mine safety, technical capability and production, and a positive work experience. However, many mining companies' existing onboarding processes are slow and can hinder productivity – and may need revisions to maintain standards.
In addition to onboarding, access to effective tools, processes, and technology can enhance employee retention, satisfaction, and productivity. While corporate office employees might have the tools needed to do their jobs, those working on the frontlines may not have the same advantages.
"Poor Wi-Fi and mobile networks, and sporadic access to technology, make onboarding and training difficult, and can negatively impact employee wellbeing and satisfaction," said the authors.
The Right Technology, Today
Focus FS has the leading-edge technology you need to attract and retain mining talent – and help keep them safe, productive, and happy while on the job.
Long-time employees and new hires can log in to any of our software solutions and begin using the system. That's because everything we produce is configured with the end-user in mind, regardless of their experience with computers or mobile devices.
Intuitive dashboards and real-time analytics make it easy to stay on top of complex situations, and then make timely decisions for best-possible outcomes. With a few simple taps or clicks, users can add digital photos or personalized messages to reports for comprehensive documentation.
Empower employees working in the field by ditching cumbersome paper forms for easy-to-navigate digital forms and checklists. Quickly generating and sending detailed reports to stakeholders allows employees to focus on completing their work on time.
No onsite Internet network or spotty Wi-Fi? No worries, as data can be collected and securely stored with or without an Internet connection. Reports and records can be completed and sent once the employee makes a connection or is back in range.
Attraction and Retention
As many operations shift towards more sustainable mining, it's important to measure and report on social, economic, and environmental practices. Our solutions help you collect specific data and create customized reports to show how your operation meets its commitments and responsibilities.
This, in combination with a digitally-focused work setting, can go a long way in attracting the next generation of mine employees who expect their employers to align with their values on social and environmental issues.
With individual user profiles and automated notifications, our solutions can ensure employees are efficiently onboarded and maintain certifications throughout their work life. This helps keep everyone safe while promoting productivity and keeping costs down.
When it comes to re-skilling or upskilling employees, our solutions make it easy to oversee training requirements and track learner progress through to successful completion. User profiles created during onboarding can be later used to match current skillsets to specific job or task requirements.
We also keep in regular contact with our clients and industry professionals to gather feedback, which we then incorporate into ongoing system updates and support. This keeps our solutions innovative while we grow with you over the long term.
As the global mining and metals sector tackles unprecedented workforce challenges, Focus FS is equipped to help you attract and retain mining talent today and moving forward. Contact us today to find out more, using the form below to schedule a call.
—
Let's get started
Contact us to discuss your current strategies and find out how our solutions are improving health and safety at companies like yours.


—
Sources:
EY. (September 26, 2022). Top 10 business risks and opportunities for mining and metals in 2023. (PDF)
Statistics Canada. (December 19, 2022). Job vacancies, payroll employees, job vacancy rate, and average offered hourly wage by industry sub-sector, quarterly, unadjusted for seasonality.
U.S. Bureau of Labor Statistics. (February 1, 2023). Economic News: Job openings levels and rates by industry and region, seasonally adjusted.