Improve Worksite Safety with Digital Forms
July 11, 2023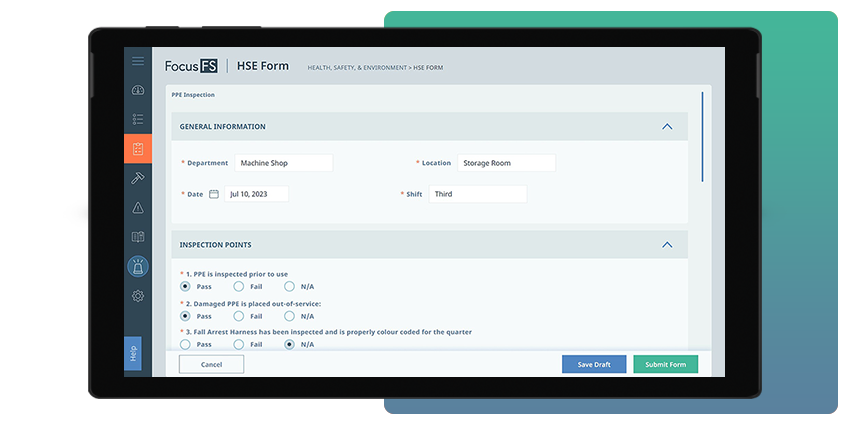 Despite advances in health and safety over the years, workplace injuries and fatalities remain a common concern for industrial workers and their employers.
According to the Association of Workers' Compensation Boards of Canada (AWCBC), 277,217 workplace injury claims were approved across the country in 2021.
The most affected occupation category – with 86,752 approved claims – was trades, transport and equipment operators, and related jobs.
This occupation category also had the highest number of fatalities in 2021, with 537 out of 1,081 work-related deaths reported by the AWCBC.
For those looking to build or improve their health and safety program, digital forms are an effective part of an advanced safety software system that can help reduce injuries and fatalities.
But not all digital forms are the same. Here's a look at some key features you should look for when selecting a safety software system that includes digital forms.
Create or modify forms (no coding required) to capture only the data you need – whether it's a PPE inspection checklist, site safety audit, or post-incident review.
Access health and safety forms from almost anywhere onsite with a desktop computer or mobile device, then securely transmit completed and signed forms via a local network or the Internet.
Be confident working in an area with a shaky network or Internet connection. Simply fill out forms as usual and transmit them when you're back in range.
Don't worry about reaching max capacity. The right system allows you to build unlimited user-friendly forms that can be filled out by anyone you select or assign.
In addition to standard elements like fill-in answers and checkboxes, the best forms allow you to add digital photos and interactive charts for in-depth information gathering.
Relevant form data and associated analytics are promptly displayed on user-friendly dashboards, allowing you to track critical KPIs and quickly identify safety trends or issues.
Once a form is received in the system, quickly create, assign, and track action items to completion – or receive notifications when they become past due.
When the unexpected happens, a submitted incident or accident form instantly sends alerts or notifications to select internal and external stakeholders.
All form data is safely and securely stored in a single location, accessible to authorized personnel for insightful reviews, investigations, and reporting.
Encourage all levels of employees to submit completed forms securely and confidentially, which can improve the flow of communications while strengthening situational awareness.
Help mitigate on-the-job injuries and fatalities by bolstering your worksite's health and safety program with an advanced safety software system that includes digital forms.
Want to learn more? Contact us today using the form below.
—
Let's get started
Contact us to discuss your current strategies and find out how our solutions are improving health and safety at companies like yours.


—
Source:
Association of Workers' Compensation Boards of Canada. (n/d, retrieved July 10, 2023). Statistics.
Digital FormsHealth & SafetyPurchasing SoftwareWorksite Safety