Improving Your COVID-19 Cleaning and PPE Management
October 27, 2020
An important part of the "new normal" for many companies is maintaining safe and productive work environments with personal protective equipment (PPE) and enhanced cleaning protocols.
But verifying that PPE is always available and work areas and equipment are cleaned in accordance with current guidelines can be time-consuming and stressful.
Focus FS has the tools you need right now to ensure employees, contractors and others confidently enter worksites to safely do their jobs.
Efficient PPE tracking
Our user-friendly system lets you remotely track PPE inventory levels with automated equipment check-ins and check-outs from designated areas.
This encourages individual accountability while providing a digital database for tracing purposes or inspection scheduling.
Our system sends you instant alerts when inventory levels hit a preset amount, so you know exactly when and how much to re-order.
It can also quickly notify employees of changing PPE procedures or other requirements.
View data on customized dashboards with real-time operational analytics, helping you accurately forecast upcoming PPE demand.
Enhanced cleaning & maintenance
Use our pre-built digital forms (or easily create your own) to remotely set up cleaning and maintenance schedules/checklists for specific work areas, pieces of equipment or almost anything else.
This helps ensure your company's COVID-19 safety protocols are being met – and provides accessible data for risk management and compliance reporting.
Onsite employees can directly transmit inspection reports and maintenance updates, which provides you with up-to-date information and encourages a culture of safety in the workplace.
Having a coordinated PPE inventory tracking system and an efficient cleaning/maintenance program will help you run safe and productive worksites while adhering to current COVID-19 guidelines.
—
Learn More
The Focus FS COVID-19 Solution helps organizations confidently manage their pandemic response. Digitize your pre-screening process, monitor PPE inventory, track cleaning and more.
Preview the COVID-19 Solution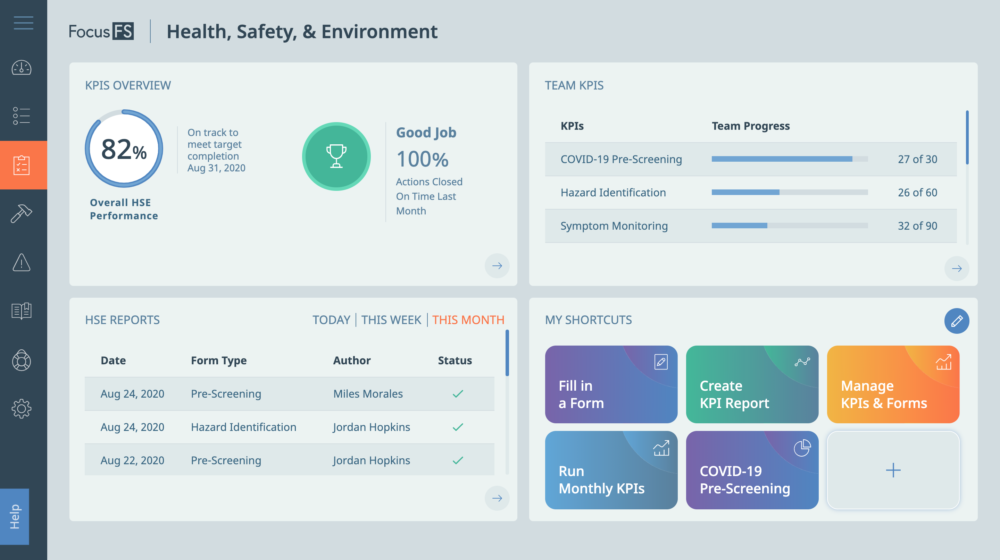 —
Are you on the list?
Be the first to get the latest product updates, safety tips and more with the Focus FS newsletter.
By subscribing you agree that Focus FS can contact you to promote their products and services.
You can unsubscribe at any time.